Thanks XJL. And yeah that does sound annoying as hell; I dont think I would be able to deal with that. I know I'm digging the new mirrors, so why not go for it. Just be sure to get an assistant to help you the test positioning them before you still into your fairing.
And I have to say that, besides certain few moments, I have been feeling great and stronger than I have in a long time lately. I hope that doesnt pass once I'm done this build...
So let me start off today's update by sayung that I HATE waiting on parts to arrive. It leaves you sitting around, unable to do the work you really want to get done...stuff you would consider important. So while I wait for my jets to come in...from Texas...., my steering damper (currently in CT), and my chain adjuster plates (in customs maybe?), its time to just work on paint.
I really liked the red on the rear sets, better than the aluminum color they came to me as, but they didnt look quite right...it was just too big of a visual block of red. Amd while looking at the bike, I noticed that my levers looked out of place being an anodized red while everything else was a "Crayola" red. So, a little looking around and thinking and...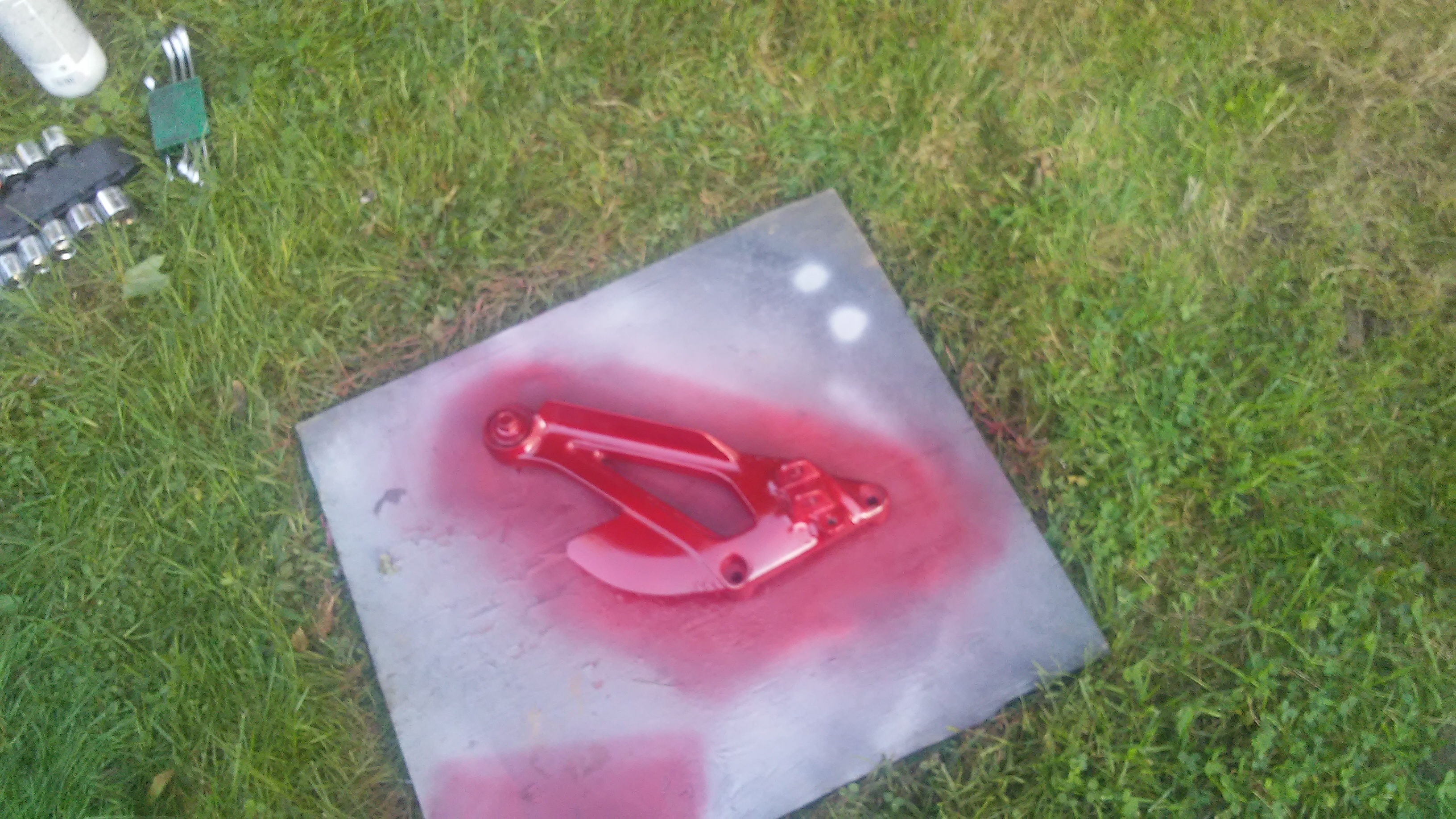 Faux Anodized Red. Or Candy Red if you prefer. Either way it just just a couple shades redder than the levers, but I dount think it's that noticable. Even for me with an artist's eye.
Sadly one of the bolts for the master cylinder mounting is stripped, the bolt for the reservoir is stripped, and I didnt feel like rebleeding brakes...so I got creative with my masking for the right side.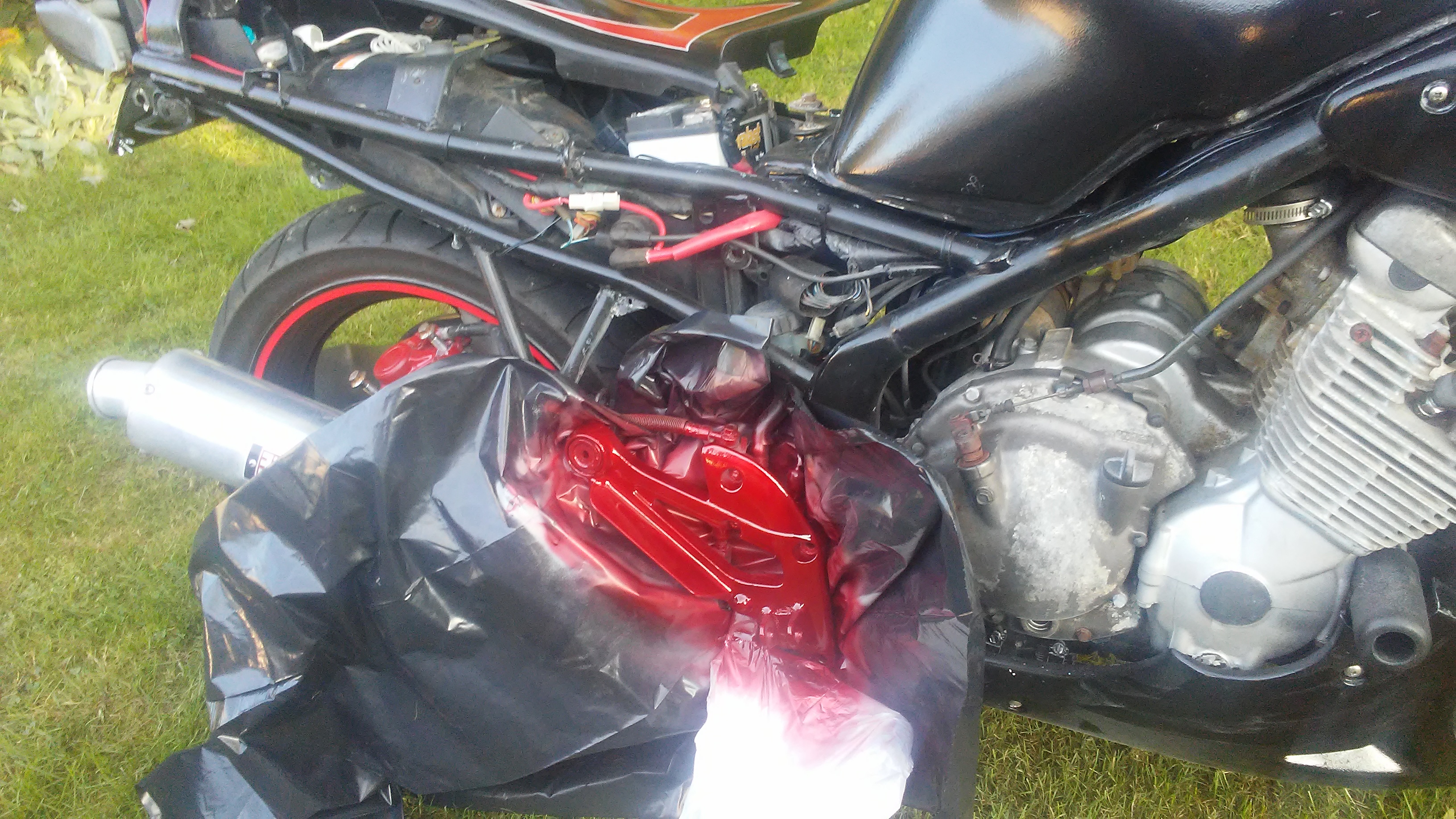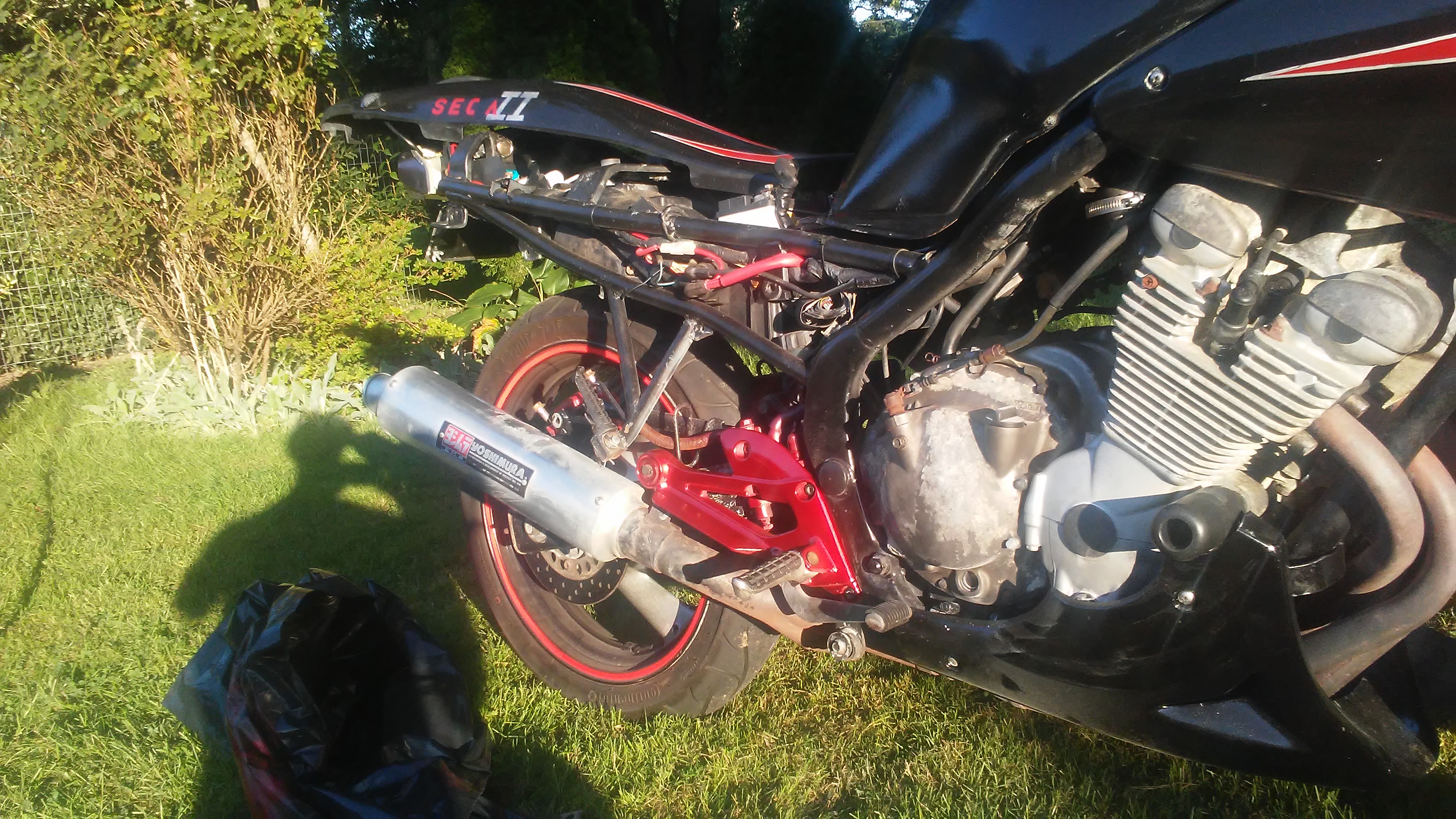 Now I can live with that! In fact I liked it so much that I did my bar-ends too. The silver was too bright and eye-catching anyway.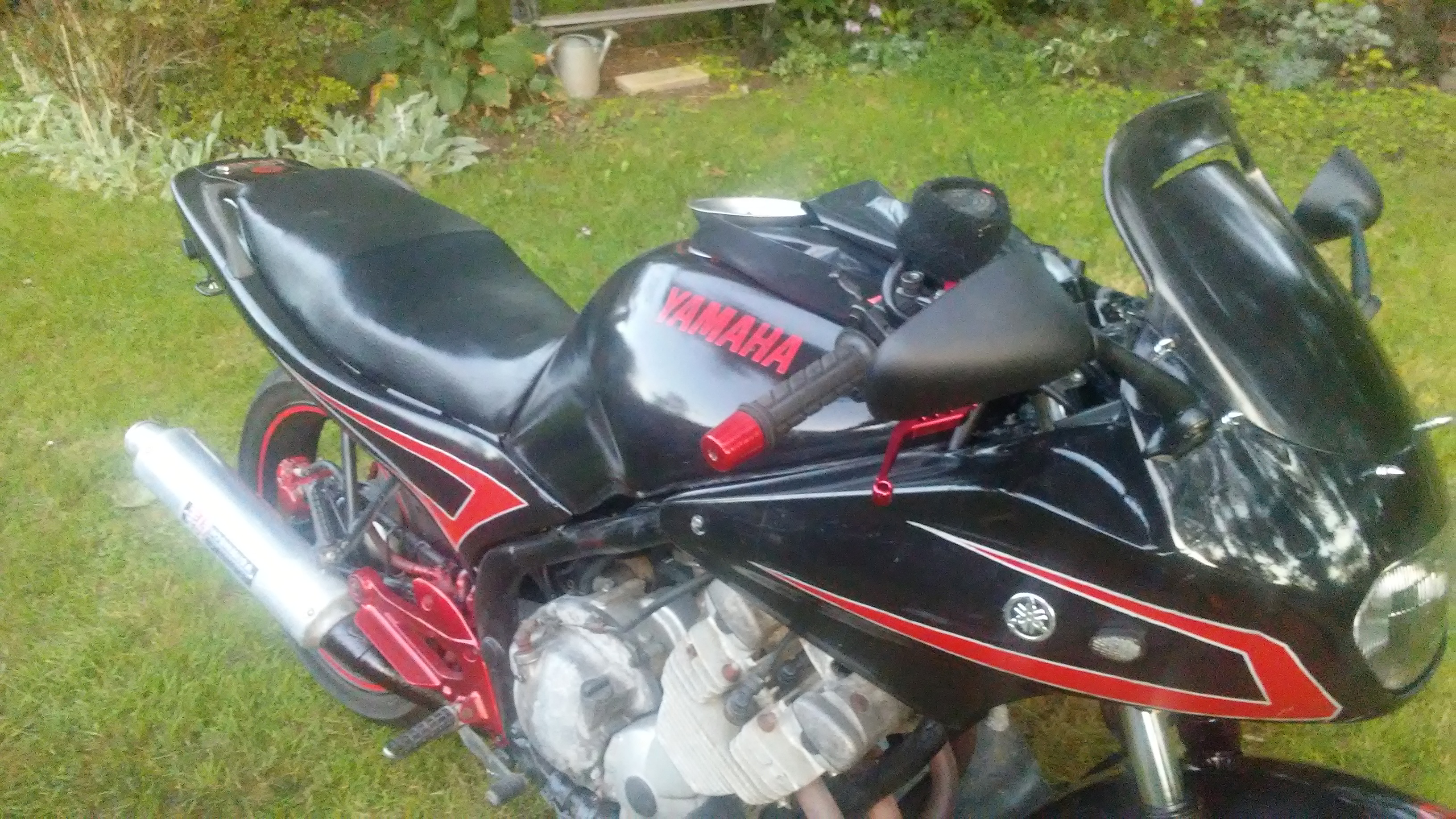 "Now Renegade, when are you going to get to that ugly, beat up motor that you yourself keep complaining about?" Now, my friends; now. Its been too long, its driven me mad enough, and the nicer I make the bike look around it, the more of an eye-sore it becomes.
Now since I am this far a long, I don't really want to pull the motor out...so it's gonna take some creative masking and such, but already I have the bottom portion of the case painted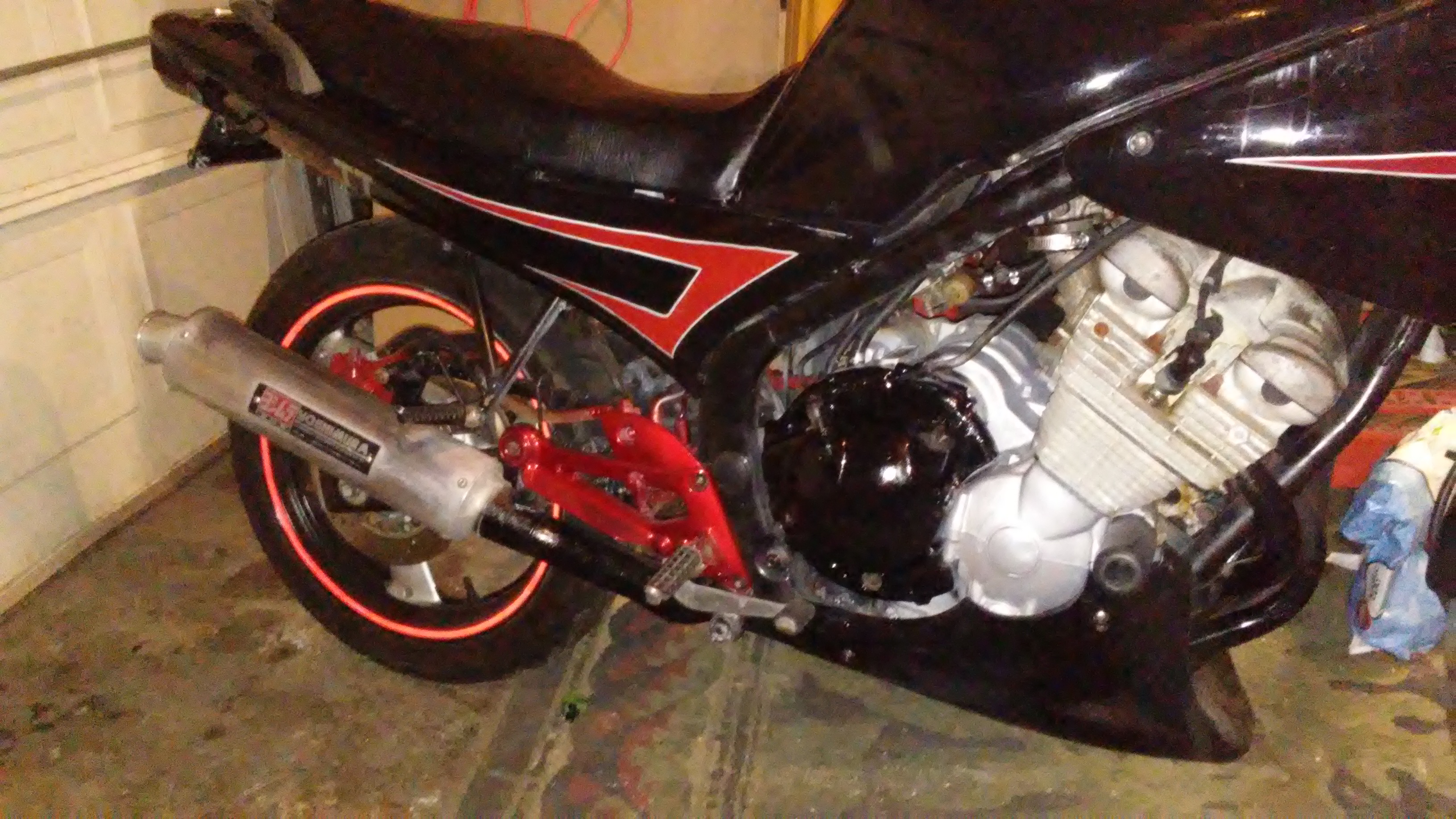 Oh, and I hit the exhaust with some high temp black...spruce it up a bit. I would love to get new headers...maybe a stainless finish to go better with the muffler...but that's a ways off... My bank account and I aren't friends currently.
Doing things they way I am, masking and blocking, I had to stop fpr the night part way (plus it was getting dark), but tomorrow is another day, so back into the garage she goes. Plus it gives me time to think a little on the rest of the motor....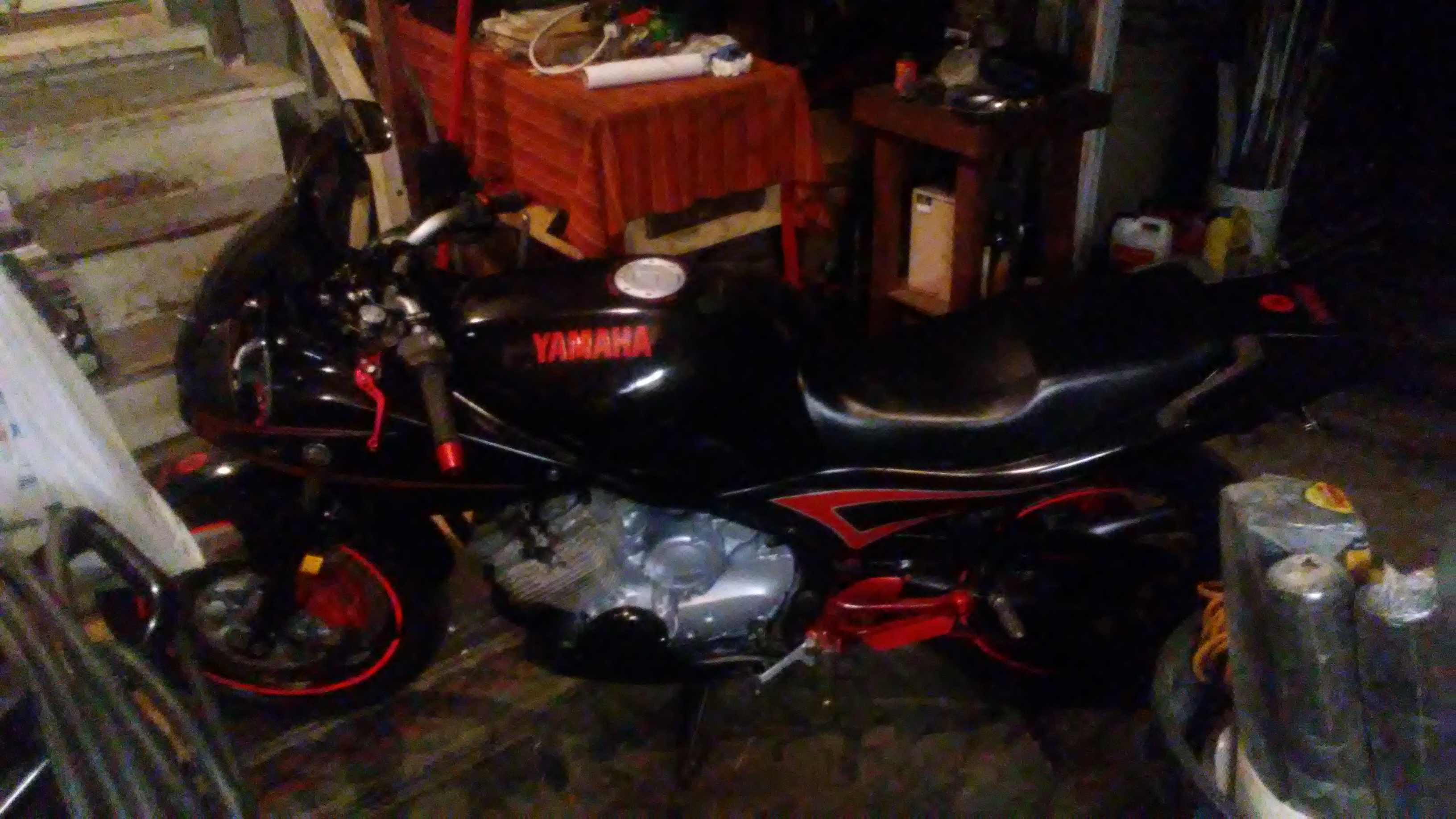 But we have a Biker Weekend coming up near me (this weekend), so i WILL be finishing and doing some touch-ups before then. Gotta look your best while you're sitting with a bunch of other motorcycles that people are no doubt admiring...