Post up your reviews of aftermarket mirrors here, pics and comments. If you can, post a link to where you can buy them from.
:thumbdown:// :thumbsup:
Clubman Bar End Mirrors
http://www.ebay.com/itm/YAMAHA-KAWASAKI ... 846wt_1396
They looked fine, but they shook quite a bit (partly the fault of my handlebars, partly looseness in the mirror itself) which blurred the view and they rattled a bit. The mirror is real glass, and I broke it trying to tighten up the bolt that holds the glass in an attempt to stop the rattling. So I ran with just 1 for a while, then the 1 I had fell off the handlebar while riding and broke. I didn't even turn around to pick it up.
I found myself very nervous to tighten the cheap bolts and components as tightly as was necessary to not be loose, and in the end, they failed after a few months. Also, everything rusted pretty quickly.
UPDATE
: I ended up getting another set of these bar end mirrors, and I had much better luck this time. This new set is a little different than the old set; the new ones don't have a screw holding in the mirror (the picture above looks like the new ones, not the old ones). I don't have any shake problems anymore, and the mirror is still glass and is slightly convex. They do drift even though they are tightened as much as I am comfortable with. I plan on dripping some superglue on the plastic pivot balls, or knurling the aluminum clamps a little bit to make them grip better, but even when they drift, I can still see behind me thanks to the convex-ity of the mirrors. So the updated mirrors I give a thumbs up to :thumbsup: BTW, I paid $13 shipped for the set. I see the link above is now around $20, so shop around and you may be able to get a better deal.
:thumbdown:
KOSO GT Diamond Mirrors
http://www.ebay.com/itm/New-KOSO-GT-Dia ... 4840703b92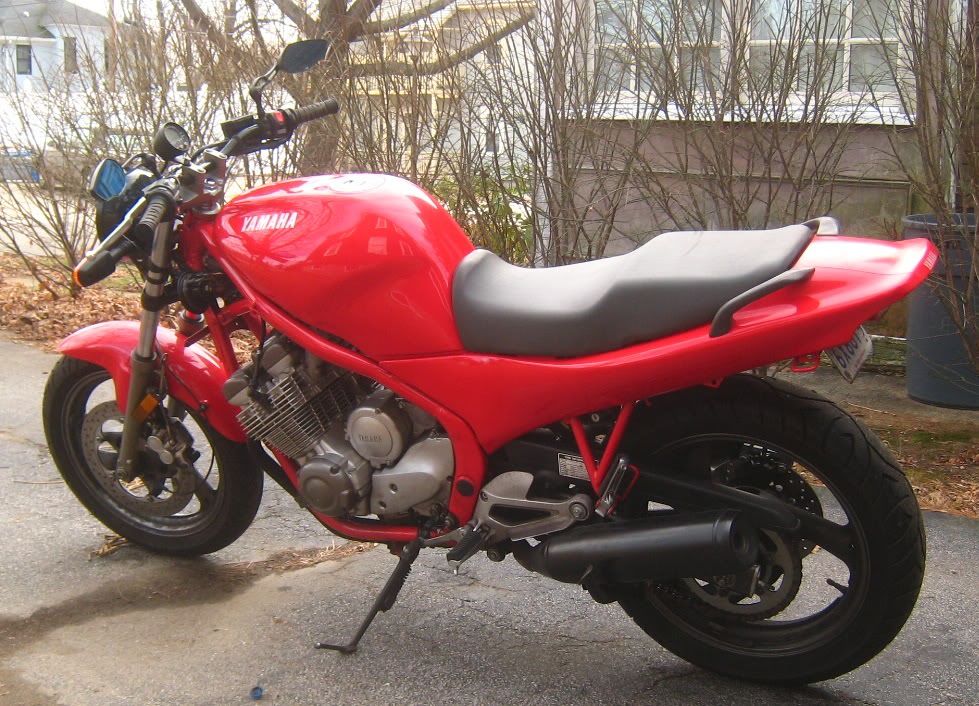 They look great, but are not very good quality. The ball joint is tensioned by a ring nut that requires a special spanner they send you with the kit, but my spanner broke. I kludged it to try to tighten the ball joint enough so that the mirror didn't turn on it's own at highway speed, and I ended up stripping out the perimeter threads on the ball-joint socket. The threads are plastic, and the tolerance on them is terrible, because the threads on the ring nut did not get full engagement in the socket to begin with, so they just kept skipping a thread because the housing side thread diameter is too big.
I requested a new set from the seller due to the broken tool and the bad threads, and they sent me a new set with a new tool in a timely manner. I found that the new set had an aluminum ring nut, whereas the first set had a plastic ring nut. The Al nut worked better, but I still didn't feel good about tightening it into the plastic threads of the mirror housing tight enough to prevent drift. Eventually I just used threadlock and tightened it close enough and left it. It has been ok for a while, but it still drifts on the highway. Also, the up/down adjustment is done by a bolt at the elbow of the shaft, but it doesn't work very well (poor toleranceing again) and one of my mirrors has a couple mm's of up and down shake, which makes the highway view very blurry. I put threadlock in there and it fixed it for a while, but now it is shaking again.
All-in-all, I don't recommend them, and I am looking for a new set.
Here are some that I am looking at now:
http://www.ebay.com/itm/UNIVERSAL-MOTOR ... 738wt_1396
They look simple, so hopefully they won't break as easily, but I can't tell if the mirror is adjustable. I would think it has to be, but I don't see any adjustment.
http://www.ebay.com/itm/MOTORCYCLE-BAR- ... 017wt_1396
Again, they look simple, and less likely to break, but I am not sure about the style. I think I would likely turn the mirror 180° from the way it is in the picture so that it is biased outwards instead of inwards. Auction is for 1 mirror only, not a set of 2.
I would love to see what other mirrors you guys are running and if you like them. I am getting very doubtful that any of these chinese knock-off mirrors will be viable, but if I am going to drop the money for US made ones (which seem to be super expensive), then I definitely want some reviews of them first.